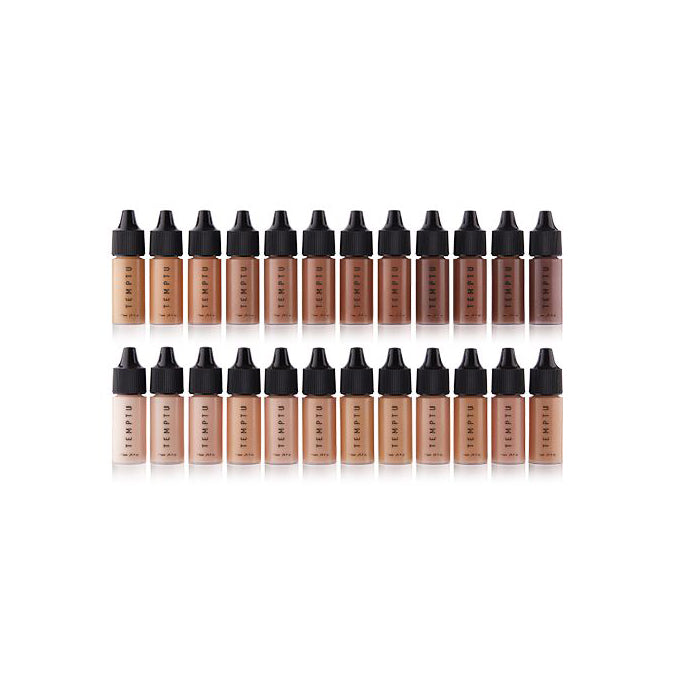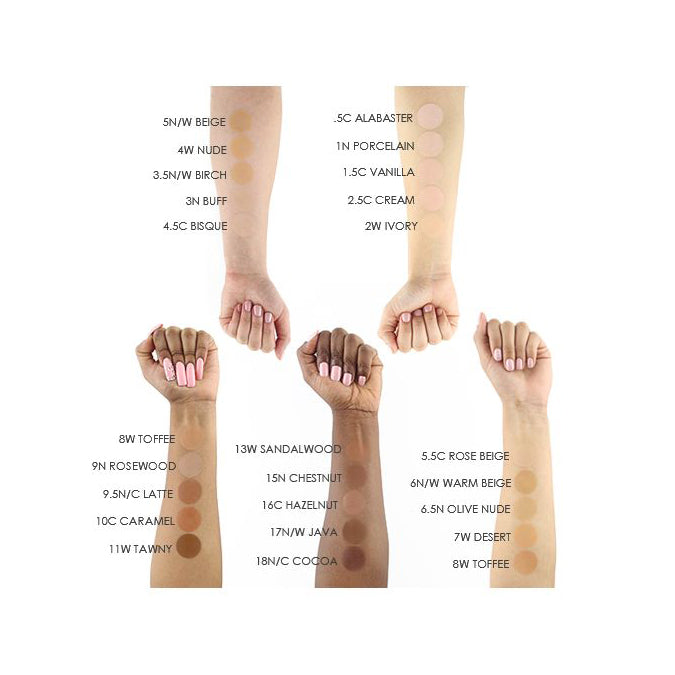 Perfect Canvas Airbrush Foundation 24 Pack
A 24 Pack of our Perfect Canvas Airbrush Foundation in its entire ready-to-use or custom-blendable shade range. Transform, protect and improve the appearance of skin with TEMPTU's most advanced professional airbrush foundation. Now with skin-nourishing natural ingredients, improved sprayability, advanced color payoff, and 24 shades for light-as-air, natural-looking coverage that lasts all day.
Skin appears healthier, younger and more radiant-looking with this long-wear, transfer and water-resistant formula shown to be 4x more hydrating than Hyaluronic Acid. This semi-matte, fast-drying formula delivers the most natural skin-like finish and offers buildable coverage – sheer, medium or full.
7.5ml Bottles
Features & Benefits:
White Birch to help improve the tone, texture, and clarity of your skin, while brightening the overall appearance
Smart Peptides proven to help improve skin's integrity and reduce the appearance of fine lines and wrinkles
Goji Berry extract proven to deliver powerful antioxidants to the skin
Gotu Kola Extract to help maintain skin's firmness and elasticity
Weightless and imperceptible 
Long-wear, Transfer-resistant, Water-resistant
Oil-free, Paraben-free, Phthalate-free, Fragrance-free, Vegan, Non-comedogenic, Hypoallergenic
Can be applied by airbrush or by hand, sponge or brush
7.5ml Bottles
Fair/Light


.5C Alabaster: Very fair shade with cool undertone
1N Porcelain: Fair shade with neutral undertone
1.5C Vanilla: Fair shade with cool undertone
2W Ivory: Fair-to-light shade with warm undertone
2.5C Cream: Fair-to-light shade with cool undertone
3N Buff: Light shade with neutral undertone
Features & Benefits:
White Birch to help improve the tone, texture, and clarity of your skin, while brightening the overall appearance
Smart Peptides proven to help improve skin's integrity and reduce the appearance of fine lines and wrinkles
Goji Berry extract proven to deliver powerful antioxidants to the skin
Gotu Kola Extract to help maintain skin's firmness and elasticity
Weightless and imperceptible 
Long-wear, Transfer-resistant, Water-resistant
Oil-free, Paraben-free, Phthalate-free, Fragrance-free, Vegan, Non-comedogenic, Hypoallergenic
Can be applied by airbrush or by hand, sponge or brush
The Result:

A pro-performance, good-for-your-skin foundation that delivers flawless, uniform color and natural-looking coverage that lasts all day, locking in key actives to help balance your complexion.

 





A 24 Pack of our Perfect Canvas Airbrush Foundation in its entire ready-to-use or custom-blendable shade range. Transform, protect and improve the appearance of skin with TEMPTU's most advanced professional airbrush foundation. Now with skin-nourishing natural ingredients, improved sprayability, advanced color payoff, and 24 shades for light-as-air, natural-looking coverage that lasts all day.

Skin appears healthier, younger and more radiant-looking with this long-wear, transfer and water-resistant formula shown to be 4x more hydrating than Hyaluronic Acid. This semi-matte, fast-drying formula delivers the most natural skin-like finish and offers buildable coverage – sheer, medium or full.

Features & Benefits:

White Birch to help improve the tone, texture, and clarity of your skin, while brightening the overall appearance
Smart Peptides proven to help improve skin's integrity and reduce the appearance of fine lines and wrinkles
Goji Berry extract proven to deliver powerful antioxidants to the skin
Gotu Kola Extract to help maintain skin's firmness and elasticity
Weightless and imperceptible 
Long-wear, Transfer-resistant, Water-resistant
Oil-free, Paraben-free, Phthalate-free, Fragrance-free, Vegan, Non-comedogenic, Hypoallergenic
Can be applied by airbrush or by hand, sponge or brush

The Result:

A pro-performance, good-for-your-skin foundation that delivers flawless, uniform color and natural-looking coverage that lasts all day, locking in key actives to help balance your complexion.

 


Includes the following shades:

.5C Alabaster: Very fair shade with cool undertone
1N Porcelain: Fair shade with neutral undertone
1.5C Vanilla: Fair shade with cool undertone
2W Ivory: Fair-to-light shade with warm undertone
2.5C Cream: Fair-to-light shade with cool undertone
3N Buff: Light shade with neutral undertone
3.5N/W Birch: Light shade with neutral-to-warm undertones
4W Nude: Light-to-medium shade with warm undertone
4.5C Bisque: Light-to-medium shade with cool undertone
5N/W Beige: Medium shade with neutral-to-warm undertones
5.5C Rose Beige: Medium shade with cool undertone
6N/W Warm Beige: Medium shade with neutral-to-warm undertones
6.5N Olive Nude: Medium shade with neutral-to-olive undertones
7W Desert: Medium-to-tan shade with warm undertone
8W Toffee: Medium-to-tan shade with warm undertone
9N Rosewood: Tan shade with neutral undertone
9.5N/C Latte: Tan shade with neutral-to-cool undertones
10C Caramel: Tan shade with cool undertone
11W Tawny: Tan shade with warm undertone
13W Sandalwood: Dark shade with warm undertone
15N Chestnut: Dark shade with neutral undertone
16C Hazelnut: Dark shade with cool undertone
17N/W Java: Deep shade with neutral-to-warm undertones
18N/C Cocoa: Deep shade with neutral-to-cool undertones