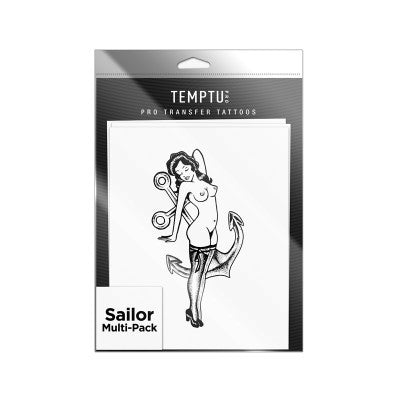 MULTI-PACK "SAILOR"
TEMPTU PRO Tattoo Transfers are printed with our high quality Dura cosmetic ink in the blue-black "Pro-Transfer" color and can withstand even the most extreme conditions.
What's Included:
10 Tattoo Transfers
Application lasts 2-5 days
What you will need to apply:
Cotton pads
70% isopropyl rubbing alcohol
Talcum (baby) powder
• Clean skin with rubbing alcohol and a cotton pad. While skin is still moist, place transfer face down in desired position.
• Press firmly with alcohol-saturated cotton until design shows through. Pat with fingers, press firmly with cotton again. Repeat process several times. Lift paper off while still wet.
• Wait thirty seconds for tattoo to dry. Dust finished design with talcum powder to set colors.Your tattoo will last for days, or you can remove it instantly with alcohol or baby oil.